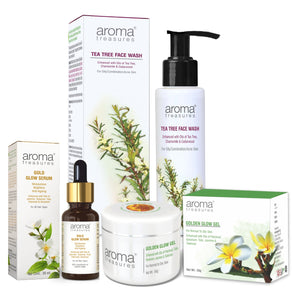 FREE SHIPPING ON ORDERS ABOVE RS.499
Quality Products
Online Support
Glowing Skin Combo for Oily Skin
NATURAL INGREDIENTS
PARABEN FREE
CRUELTY FREE
100% VEG
Tea Tree Face Wash
A deep cleansing facial wash, daily use helps remove dirt, excess oil and eliminates skin impurities. Tea Tree essential oil adds powerful antimicrobial powers to clear the skin of pollutants. Chamomile oil is soothing after the day's exposure to the sun and reduces blemishes. Earthy Cedarwood oil helps regulate sebum production and alleviates acne breakouts.
How to use: Apply on moist face and massage in a circular motion. Rinse off. Use daily for noticeable results.
Aroma Treasures Golden Glow Gel ( For Normal To Oily Skin )
A time tested concept in beauty, gold leaf helps to rejuvenate dead cells, ageing skin and makes the skin glow like gold. This gel also tones and improves skin elasticity.
Gold Glow Serum
Looking good makes you feel good, and so you'll love this Gold Glow Serum that will give you with brightened skin every day. The formula is easily absorbed by the deepest layers of skin for a glow that radiates from the inside out.
Sweet Jasmine oil moisturizes dry and sensitive skin, and Geranium lends a hand as it balances oily skin against acne-producing bacteria. Tuberose oil smooths fine lines and wrinkles, reversing the effects of ageing and amplifies the skin's moisture-binding capability, leaving it looking young and supple. Healing Tulsi protects the skin from oxidative damage to cells from UV radiation and mends uneven tone. Patchouli helps prevent scarring and rejuvenates the skin, making it brightens and vibrant.
How to Use
Apply 10-15 drops of serum on cleansed face and neck and leave it on daily at night. Do a skin patch test for sensitive skin before use.
Ingredients: Oils of Jasmine, Tuberose, Tulsi, Patchouli and Geranium