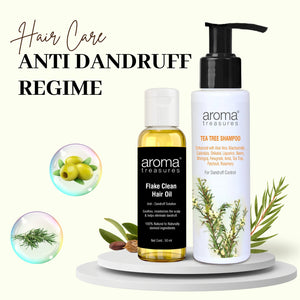 FREE SHIPPING ON ORDERS ABOVE RS.499
Quality Products
Online Support
Hair Care - Anti Dandruff Regimen
Aroma Treasures Hair care regimen is designed to resolve your daily hair problems like dandruff flaking, scaling and itching. Healthy scalp is a key to healthy hair, hence the balanced formula of these 2 naturally crafted products work wonders on your scalp resulting in dandruff free healthy looking hair. Flake clean Hair oil and Tea Tree Shampoo are infused with natural ingredients like tea tree, Patchouli, olive , lemon, cedar wood and more essential oils. Its delicate cleansing action ensures soft, voluminous & shining hair.
Eliminates existing dandruff particles, prevents further formation.
Controls flaking, scaling and itching.
Purifies the scalp.
Soothes and moisturises the scalp.
Helps to reduce dryness.
Soft, voluminous & shining hair. 
100% pure essential oil based products.
Chemical Free.
How to use: 
Step 1 -  Apply Flake Clean hair oil on hair and massage gently. Leave it on for 2-3 hours or overnight. 100% safe to use.
Step 2 - Wash it with Aroma Treasures Tea Tree Shampoo. Use it regularly for better result. 
Consistent use for  minimum 3 month is advisable for better results.
Flake clean hair oil :
This Anti- dandruff Oil helps to control flaking, scaling and itching. It has a soothing, balancing and moisturizing effect on the scalp. It promotes healthy scalp by relieving the irritation caused by itchiness.100% Natural to naturally derived ingredients. This oil does not contain any artificial fragrance or color and it's absolutely chemical free.
Ingredients: Sesame Oil, Olive Oil, Jojoba Oil, Tea Tree Oil, Lemon Oil, Cedarwood Oil.
Tea Tree Oil: It has anti fungal and anti bacterial properties. One of the few oils which affects against dandruff.
Cedarwood Oil: It stimulates growth of hair and is good for dandruff dry hair. Prevents hair loss.
Lemon Oil : Acts as good cleanser for scalp and hair.
Sesame, Olive & Jojoba oil: Contains Protein, Vitamin-E and Minerals to boost the strength of the hair.
Tea Tree Shampoo
This balanced formula purifies the scalp, eliminates existing dandruff particles and prevents further formation. The delicate cleansing action ensures soft, voluminous and shiny hair. 94%natural to naturally derived ingredients.
Tea Tree: Fights Dandruff. Helps to unclog hair follicles. Very good for dry& itchy scalp. It moisturizes by nourishing your roots and scalp.
Patchouli: effective anti-inflammatory, regulates oily skin and dandruff.