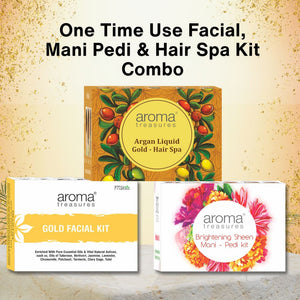 FREE SHIPPING ON ORDERS ABOVE RS.499
Quality Products
Online Support
One Time Use Facial, Mani Pedi & Hair Spa Kit Combo
NATURAL INGREDIENTS
PARABEN FREE
CRUELTY FREE
100% VEG
Argan Liquid Gold-Hair Spa Kit
The hair spa kit is formulated with the goodness of natural and herbal extracts, that provide deep nourishment to the hair and scalp. This single time use kit offers long lasting benefits to the hair, thereby leaving it silky, shiny and healthy looking.
Kit Contents:
Revitalising Hair Oil (5ml)
Follikare Wash (20ml)
Deep Conditioning Mask (20ml)
Satin Feel Leave-On (2ml)
Benefits:
Intense Moisturization
Gentle Hair Care
Scalp Cleansing
Natural Conditioning
Revitalizing Dry or Damaged Hair
Suitable of All Hair Types
Gold Facial Kit All Skin Types
For a lasting golden glow, our Gold Facial Kit is the way to go. It's suitable for all skin types and takes intensive care of your fragile skin. Enriched with stimulating natural extracts and pure essential oils, this facial treatment detoxifies and unclogs the pores, balances skin texture by controlling sebum secretion and tightens skin cells. You'll instantly have a natural sheen and flawless complexion.
Pure 24 karat Gold Leaf enhances the absorption of the beauty ingredients by the skin and reverses the impact of UV damage. Turmeric oil in a gentle scrub lightens skin and pigmentation scars while Lavender oil helps fight reduce oiliness and treats acne while inducing a sense of relaxation. Jasmine: Fragrant Jasmine oil repairs dry skin, leaving it as soft as velvet, and Tuberose oil helps lock moisture in the skin making it, young and supple. Geranium works gently to improve firmness and elasticity, as Chamomile soothes irritated skin and promotes tissue regeneration.
Kit Contents:
Skin Pure Cleanser (5ml)
Turmeric Apricot Gentle Scrub (5g)
Golden Glow Gel (5g)
Golden Glow Cream (5g)
Gold Mask (5g)
Chamomile Vitamin - E Soothing & Moisturising Lotion Mask (5ml)
Ingredients: Gold Leaf, Turmeric Oil, Lavender Oil, Jasmine Oil, Tuberose Oil, Geranium Oil, Chamomile Oil
Brightening Sheen Mani-Pedi Kit
For a last-minute manicure pedicure, there's no need spend to exorbitantly at a salon or spa. This one-time kit with a splash of natural fruit, will visibly brighten and even skin tone, renewing dull and aged skin caused from exposure to sun and pollution.
Arbutin, extracted from the bearberry plant prevents the formation of melanin, lightening and brightening skin. It protects the skin from the sun and reduces darkening. The floral aroma of Lavender oil is soothing and relaxing, a perfect companion in the pampering process and replicates a spa experience at home. Rich in Vitamin C, Orange oil repairs skin blemished from UVA and UVB radiation and its antioxidant nature protects the skin from future damage. Lemongrass is a natural toner and healer. Astringent and antiseptic, it evens out tans revealing fresh and glowing skin. Kokum butter feels retain moisture, forming a cocoon around the skin and keeps hands and feet soft and supple. Kaolin is a gentle clay suitable for all skin types, that clears away dull, dead skin and absorbs impurities, imparting a fresh, natural look.
Kit Contents:
Cuticle Cream: Massage onto nails. Leave on. (Glycerin)
Lavender Bath Salt: Add salt into a hot tub of water and soak hands and feet for 10 minutes. (Lavender Oil, Epson Salt)
Revitalizing Wash: Pour some of the wash on wet hands or feet and some into the tub. Massage well and wipe. (Aloe Vera Juice, Lavender Oil)
Radiant Exfoliant: Scrub hands or feet gently for 10 minutes. Wipe with a warm towel. (Lemongrass Oil, Pumice Scrub)
Intense Brightening Butter: Massage hands or feet with butter and leave on. (Kokum Butter)
Brightening Sheen Wrap: Apply the wrap and leave on 10-15 minutes. You can additionally wrap with cling film to maximize its effect. (Arbutin, Kaolin)
Ingredients: Arbutin, Lavender Oil, Pumice Scrub, Orange Oil, Lemongrass Oil, Kokum Butter, Kaolin.