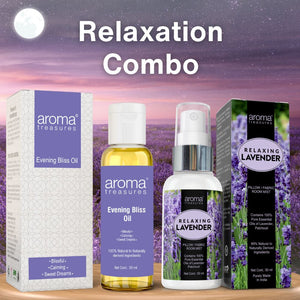 FREE SHIPPING ON ORDERS ABOVE RS.499
Quality Products
Online Support
NATURAL INGREDIENTS
PARABEN FREE
CRUELTY FREE
100% VEG
Evening Bliss Oil
In a land identified as the second-most sleep-deprived in the world, Evening Bliss oil is a simple solution to an epidemic that can cause long-term problems if it goes unaddressed. Hectic work and home lives are hard to balance, and this blend is perfect for holistic healing and reducing stress levels. A few drops applied at night to the temples and neck releases a soothing aroma that helps both body and the mind relax and induces a feeling of calm.
Almond, Olive and Jojoba carrier oils do not evaporate quickly yet remain light and non-sticky, imparting inherent nourishing qualities. In the chaos of busy lives, the regular use of this specially crafted blend will help you see a marked improvement in overall health. Geranium oil extracted from the leaves of the plant acts as a mood harmonizer, complementing the calming effect of floral Lavender oil to promote sleep. The oil from the Vetivert root has a thick, earthy scent that instantly diffuses a sense of tranquility and the soft aroma of Ylang Ylang completes the aromatic concoction that is gently uplifting.
Now you can save money on medications that provide temporary relief and invest in your health with Aroma Treasures Evening Bliss Oil. This simple and effective home solution will revitalize you every night for a fresh start the next day.
Ingredients: Almond Oil, Olive Oil, Jojoba Oil, Geranium Oil, Lavender Oil, Ylang Ylang Oil, Vetivert.
Direction of Use: Blend and apply to temples and neck. Use daily at night.
Relaxing Lavender Pillow / Fabric Room Mist
The world is not as we knew it anymore, and sleep cycles have been affected by the stress of Covid. Our Relaxing Lavender Mist is ideal for peaceful slumber when a million thoughts run through your mind. Lavender flower oil calms the restlessness and has a sleep-promoting effect. Patchouli aroma has a grounding effect and eases anxious emotions.
Ingredients: 100% Pure Essential Oils of Lavender, Patchouli.
Direction of Use: Spray 3-4 times on your pillow/bed linen/clothes or in the room. Repeat periodically to enjoy the calming effect of the 100% pure essential oil blend.